Wiz Khalifa – Successful Rapper
Wiz Khalifa – Stage name derived from Khalifa, an Arabic word meaning "Successor" and wisdom.
Envisioned himself being a rapper and being in the game and having success. He knew that no one ever knows how it feels like or how you're going to be when you're there.
He's an American rapper, songwriter and actor from Pittsburgh, Pennsylvania. He received numerous awards, even before he launched his career and debut album including being one of Rolling Stones Artists to Watch.
His debut single Black and Yellow hit number one on the Billboard Hot 100 which was released on 14 September 2010. In March 2015, he released "See You Again" for the soundtrack of the film Furious 7 and the song peaked at number one on the Billboard Hot 100 for 12 non-consecutive weeks.
| | |
| --- | --- |
| Net Worth: | $50 Million (est.) |
| Country | United States |
| Source Of Wealth | Rapper, Songwriter, Actor |
Below are my favorite Wiz's top inspirations for success.
1 – Just Do It
He was making music, writing and freestyling with his cousins and stuff like that rapping' over other people's beats, at a certain point he realized that he came to the point where he felt comfortable and he had that crazy passion for it. By getting confidence from his dad "IF YOU WANT TO DO IT THEN DO IT" 
Neither his parents knew how far he's going to push his passion but he got support from them. They never felt that it's out of reach, he worked hard and then his dream came true.
He believed himself and he stood his ground. That changed his life for real. 
"As Long As I Stand Up For Me & What I Believe In, I'll Be Straight"

–

Wiz Khalifa
2 – Be A Pioneer
Khalifa already had a passion and he visualized himself as a pioneer in the game. He saw Drake and Lil Wayne as a pioneer too. He had something that distinguished himself from others.
PVFashionBlog.ru
"There's only certain people who really come & define their generation other than being part of their generation." – Wiz Khalifa
He saw himself as a leader and someone who can change things and doesn't just follow.
3 – Take Risk
Reddit
He is a risk-taker, for his passion and fun he never steps back.
Once he shared his views about the passion of skating, he didn't want to be the best skater in the world, other than music and making money he has a passion for it and is able to relax and cruise. 
"Everything is risk, so if you're not willing to take the risk then there's no point in doing it anyway. " – Wiz Khalifa
4 –  Show Love
Pinterest
Explaining how to show love to his fans through great music he produced for free and free stuff. From the beginning he was clear about how to define to his audience what is free stuff and what is for sale. 
He put his mixed tape with original beats, he had a great understanding of what he's giving for free which brings his fans back to purchase the album. And at that point the magic began, fans really wanted to purchase the album.
This connectivity shows a real love between him and his fans. 
5 – Bring Energy
Being an individual personality he sees himself as a lead singer of the band. He keeps his energy level up when he holds the mic. He knows that those young people in the crowd came to see and listen to him and enjoy the beats.
He's a real performer and he keeps pushing his limits during performance until his clothes jets wet with his sweat. 
"It's all about the vibe
and the feeling." – Wiz Khalifa
6 – Go To The Next Level 

To reach the next level you need to take some major steps. He changed his management, giving him the confidence to be your own boss. Whatever steps you take, you're in charge of that. New management Constance Schwartz and SMAC Entertainment give him a new look and being bigger and better.
[easy_youtube_gallery id=NeNu_wGw1Zk][/easy_youtube_gallery]
Biography
No one teaches in school to be your own boss. Yes schools have entrepreneurship classes and related stuff but still, you'll miss how to be your own boss. Wiz Khalifa teaches kids how to really, really work for themselves. 
8 – Build Good Relationship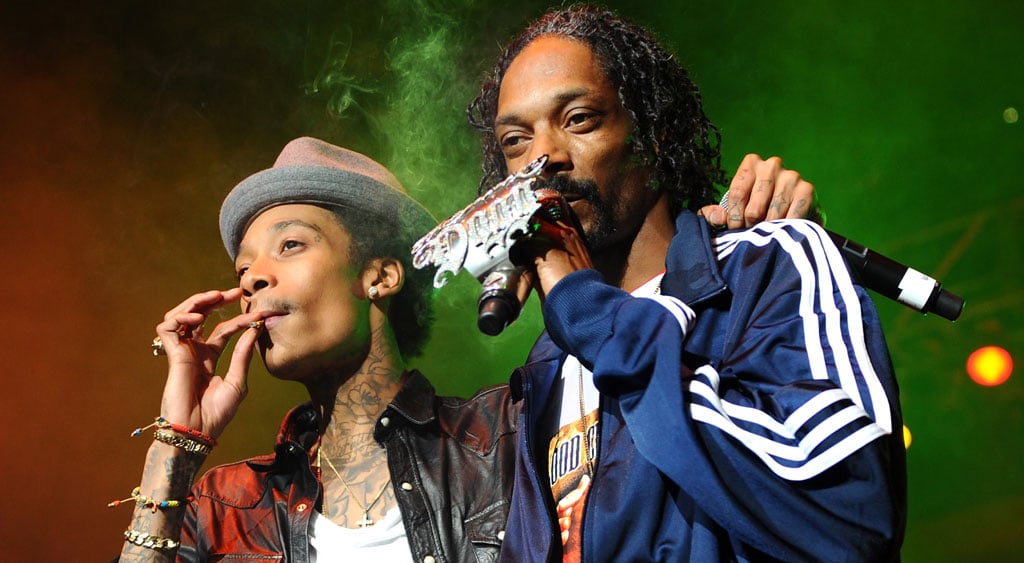 PopSugar
To be in the game Wiz teaches that everyone has to build a good relationship with the people inside the game. He has a great relationship with Snoop Dog, and associated acts  with Berner, Big Sean, Currensy, Juicy J, Mac Miller, Smoke DZA, TM88, Ty Dolla Sign. 
"The moment you give up is the moment you let someone else win." – Wiz Khalifa
9 – Hustle
Citybeat
Work hard, touring all the time, always on the go. He always recorded, he built his studio in his house. He has a mobile studio, always ready to record on a bus while touring. Hustle all the time. 
Pinterest
He has strong beliefs to stay forever. Like he said in his interview " I'm not leaving shit, I'm going to be here forever"
And that's true people also expect them to stay forever.
"I'm going to be an old ass man, my hair going down to here it's gonna be gray  and when I feel like I'm leaving then that's what I'm going to do but about 180 years I plan on just sticking around." – Wiz Khalifa
[easy_youtube_gallery id=A0ly7nv5E7Y][/easy_youtube_gallery]
Fact Check
We strive for accuracy and fairness. If you see something that doesn't look right, contact us!