Kevin O'Leary, widely recognized as "Mr. Wonderful" on the popular television show "Shark Tank," has established himself as a prominent figure in the business and investment world. With a diverse portfolio of ventures, a keen eye for opportunities, and a straightforward yet charismatic personality, O'Leary's journey to success is both intriguing and inspiring.

Biography of Kevin O'Leary:
Born on July 9, 1954, in Montreal, Quebec, Canada, Kevin O'Leary developed a passion for business and finance from an early age. He attended the University of Waterloo, where he earned a degree in environmental studies and psychology. Later, he pursued an MBA at the University of Western Ontario.
O'Leary's entrepreneurial spirit became evident early in his career. In 1983, he co-founded the software company Softkey, which eventually became The Learning Company. The company's success led to a significant financial windfall for O'Leary, laying the foundation for his future endeavors.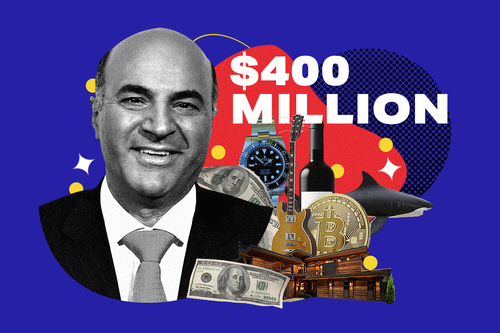 Kevin O'Leary's Net Worth:
Kevin O'Leary's net worth is estimated to be $400 million as of 2023. O'Leary is a Canadian businessman, investor, and television personality who made his fortune through various business ventures, including SoftKey, StorageNow Holdings, and O'Leary Ventures. He is also known for his appearances on reality television shows such as "Dragons' Den" and "Shark Tank". O'Leary's net worth is primarily derived from his investments, which include stocks, real estate, and cryptocurrencies. He is one of the wealthiest investors on "Shark Tank," with a net worth higher than fellow panelists Daymond John, Robert Herjavec, Lori Greiner, and Barbara Corcoran, but lower than Mark Cuban
Kevin O'Leary's Source of Earnings:
O'Leary's diverse sources of income reflect his multifaceted approach to business. One of his primary sources of earnings is his role as an investor on "Shark Tank," where entrepreneurs pitch their business ideas to a panel of wealthy investors. O'Leary's shrewd decision-making and business insights have made him a standout figure on the show.
In addition to his television career, O'Leary has been involved in various business ventures. His early success with The Learning Company was followed by investments in industries ranging from finance to technology. O'Leary is also known for his involvement in the financial and investment sector, offering advice through books, public speaking engagements, and media appearances.

Kevin O'Leary's Best Quotes:
Known for his straightforward and often blunt communication style, Kevin O'Leary has delivered numerous memorable quotes that encapsulate his business philosophy. Some of his best-known quotes include:
– "Business is war. I go out there; I want to kill the competitors. I want to make their lives miserable. I want to steal their market share. I want them to fear me and I want everyone on my team thinking we're going to win."
– "Don't cry about money, it never cries for you."
– "Money has no grey areas. You either make it or you lose it."
These quotes reflect O'Leary's no-nonsense approach to business and finance.
Kevin O'Leary's Family and Wife:
O'Leary is not only a savvy businessman but also a family man. He is married to Linda O'Leary, and the couple has two children together. Despite his demanding career, O'Leary emphasizes the importance of family and has shared glimpses of his personal life through various interviews and social media.
List of Companies Associated with Kevin O'Leary:
Kevin O'Leary's business portfolio includes a diverse range of companies spanning different industries. Some of the notable companies associated with O'Leary include:
O'Leary Ventures – a private early-stage venture capital investment company founded by Kevin O'Leary
O'Leary Mortgages – a mortgage company founded by Kevin O'Leary
O'Leary Books – a book publishing company founded by Kevin O'Leary
O'Leary Fine Wines – a wine company founded by Kevin O'Leary
O'Leary Funds Inc. – a mutual fund management firm co-founded by Kevin O'Leary in 2008
O'Shares Investments – an Exchange Trade Fund (ETF) company chaired by Kevin O'Leary
StorageNow Holdings – a storage company co-founded by Kevin O'Leary
SoftKey – a software company co-founded by Kevin O'Leary
Stanton Asset Management – a mutual fund management firm that managed O'Leary Funds Inc.
Dragons' Den – a reality television show where Kevin O'Leary was a panelist
Shark Tank – a reality television show where Kevin O'Leary is an investor
This list is not exhaustive, but it includes some of the most notable companies associated with Kevin O'Leary.

Kevin O'Leary's Assets:
While specific details about O'Leary's assets may not be publicly disclosed, it is known that he owns various properties and investments. His diverse portfolio likely includes real estate, stocks, and other valuable assets, contributing to his overall net worth.
In Conclusion, Kevin O'Leary's journey from a young entrepreneur to a business mogul and television personality is marked by strategic decision-making, a passion for business, and a relentless pursuit of success. With a net worth in the hundreds of millions, O'Leary continues to leave a lasting impact on the business world, offering valuable insights and making impactful investments that shape industries and inspire aspiring entrepreneurs worldwide.