This happened to him once before in 2019 Mr. Anil Ambani either had to pay Ericsson 453 crore Indian rupees or go to jail at that time. That time his super-rich brother saved him from that fate. it happened again this year, He was personally liable to the three Chinese banks for Rcom's duse of 700 million dollars, in reply he mentioned that he has a net worth of zero. 
Yes we are discussing Mr. Anil Ambani's downfall from $43 billion to $1 billion and his major mistakes.
Youth icon, industrialist, socialist, and fitness enthusiast – The riches-to-rags story of Anil Ambani could well be a plot for a Bollywood film just like his father, Dhirubhai Ambani, who also inspired a film, GURU.
Dhirubhai Ambani was legendary for his audacious vision and his ability to successfully implement it.
IF YOU DON'T BUILD YOUR DREAM,
SOMEONE ELSE WILL HIRE YOU,
TO HELP THEM BUILD THEIRS.
— Dhirubhai Ambani —
While Dhirubhai started as a petrol pump attendant in Aden, Yemen. His sons walked straight to the director's cabin (Director Mukesh Ambani & MD Anil Ambani). 
While Dhirubhai returned to India with just 500 Indian rupees, set up reliance, and took it public in 1977. The boys started life, sitting on its board.
At the time of Dhirubhai's death in 2002, Forbes ranked him as the world's 138 richest person, with the net worth of 2.9 billion dollars leaving behind one of India's biggest companies worth 75,000 Crore Indian rupees. 
Unthinkable to him that his two sons would fight over his legacy Dhirubhai did not leave behind the will. Despite cracks forming between the two brothers even during his lifetime who were then Chairman and Managing Director of Reliance Industries respectively.
Dhirubhai's Death
After the father's death, these cracks came wide into the open, over who would own which company. There was no question as to who would get their flagship petroleum company Reliance because Mukesh was the one who had built them main Patal Ganga plant and understood the business intricately. Reliance Communications India's 2nd largest telecom company at the time was also Mukesh's baby having a vision and build it from scratch but Anil wanted it.
Finally, it was their mother Kokilaben in 2004-05, anil wanted R'Com supported by external negotiators, S. Gurumurthy (Chartered Accountant), and K.V. Kamath (Banker) who stepped in to divide the conglomerate.
Old Economy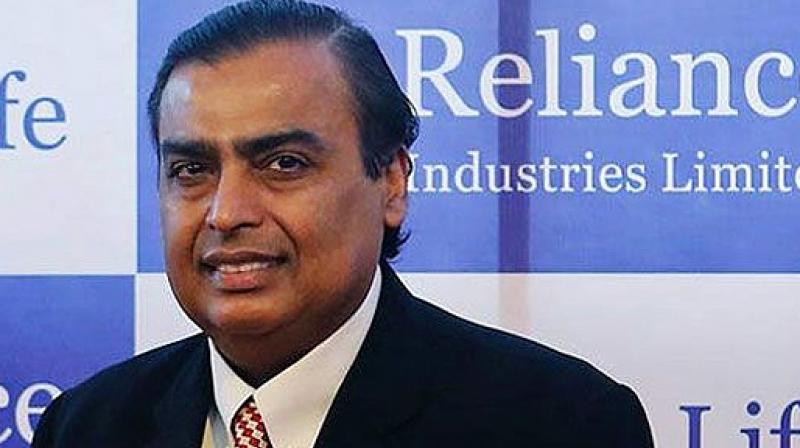 Mukesh got all the 'Old Economy' companies, Reliance Industries Limited, Reliance Petroleum (RPL), Indian Petrochemical Corporation Ltd (IPCL), Reliance Industrial Infrastructure Ltd (RIIL). 
New Economy
While Anil got all the 'New Economy' companies and renamed his group ADAG – Anil Dhirubhai Ambani Group, Reliance Communication (RCOM), Reliance Capital (RCL), Reliance Energy (REL), Reliance Natural Resources Ltd (RNRL), Reliance Broadcast Network Ltd (RBNL).
Anil's legacy left him as the sixth richest man in the world with a net worth of more than 42 billion dollars just one step below his elder brothers 43 billion dollars and it was broadly expected that since Anil had control over 'sunrise' sectors he would do better than Mukesh in the long run.
in his quest to further strengthen his hold in this sunrise sector in 2005 Anil bought ADLABS Films and their chain of theaters big cinemas which by 2008 had become the largest multiplex chain with 700 screens across India and overseas.
Hollywood
Anil also signed a 1.2 billion dollar deal with American filmmaker Steven Spielberg's production company DreamWorks in the same year making some Academy award-winning movies you may have seen '1917' – 'Warhorse' – 'The Help' – 'Lincoln' – 'Bridge Of The Spies' – 'Girl On The Train'.
At his Zenith in 2008, when Anil floated an IPO for Reliance Power it was subscribed in 60 seconds and record for Indian capital markets. Anil's flamboyant lifestyle was a fairytale-like his proximity to Bollywood celebrities. 
'Anil Is Like My Younger Brother'

— Amitab Bachan —
To politicians like  Samajwadi parties Amar Singh who had enough clout to have him nominated as
'I Anil Dhirubhai Ambani have been elected as a member of the Rajya Sabha…'
Like his bi-weekly helicopter flight from his South Mumbai home to R-Com's office in Navi Mumbai named Dhirubhai Ambani knowledge city or his love for running and fitness which he apparently took up after an American investor once quizzed him during an international fundraising spree.
'  Anil while you take so much care to look out to the fitness of your companies you do the same with your body?'
Until then the only other running analyte done was when he had famously chased the lovely Bollywood diva Tina Munim. For almost 10 years before finally marrying her in 1991! So popular had he become that journalists would flock to him on just a moment's notice 
Expensive House
With elder brother Mukesh boasting of the most expensive house in Asia worth 700 Million dollars i.e 450 Crore Indian rupees (four and a half thousand crore). Anil planned his own luxurious house 'ADOBE' also worth about the same amount in Bandra's Pali Hill, which is still under construction.
Anil took Mukesh to court
With so much money and attention around it seemed Anil star would shine forever things however did not go as planned relations between the once-close brothers that were until then civil, soured. Instead of re-negotiating an old deal in 2010, Anil took Mukesh to court, over the supply price of gas from Reliance Krishna Godavari Basin, when Mukesh refused to supply him gas at the contracted price. 
Under the terms of the 2005 gas agreement brokered by their mother. Mukesh's RIL had contracted to supply gas to Anil's RNRL at $2.34/mmBtu (million British thermal units) even though its price had since risen sharply in international markets. But the Supreme Court in accordance with the government's gas utilization policy fixed the price at $4.20/mmBtu in favor of Mukesh as RIL. 
Telecom Industry
His next hit was in Telecom, when RCom was set up they adopted the cheaper CDMA technology while rivals such as Airtel and Hutch used the more expensive GSM. While CDMA was a superior technology at 2g and 3G level. The world was moving towards 4G and beyond which it could not support. 
Once the 10 Year anti-competition clause with his brother lapsed in 2015, Mukesh launched JIO and changed the face of the telecom industry in India. Within 3 years of Jio's launch RCom's 1.65 lakh crore Indian rupees market capitalization lost over 98% of its value and eventually went into insolvency proceedings in May 2018. 
Both these were big setbacks for Anil now his dominoes began to fall one by one. In an effort to reduce debt, in 2014 Anil sold big cinemas to Carnival for 710 Crore Indian rupees (Seven hundred and ten crores) and two years later parts of his TV and FM radio business to Z for 1,872 Crore (One Thousand Eight Seventy-Two Crore). 
During his hay-days, Anil, to showcase his engineering capability, took huge loans to build Mumbai Sea Link and the city's Versova-Ghatkopar Metro both projects done below cost. Despite things falling all around him, Anil without domain knowledge tried his hand in the defense sector when in 2016.
Loans and Debts
He bought Pipapav Marine and Offshore Engineering, so it was no surprise when the diversification failed and the market cap of Pipapav renamed Reliance Naval fell 90% in 2019 from a 1 billion dollars to a 100 million dollars. The Fuhrer over the Rafael deal in Parliament also added to his woes. Finally the profit-making and cast generating Reliance Energy were sold off to Adani in 2017-18 for 2.5 billion dollars (Two and a Half Million Dollars), 18,000 crores took to pay off debts. 
Loans that Anil defaulted on worth12,800 crore Indian rupees (Twelve Thousand Eight Hundred Crore) also played a part in the downfall of yes bank. As of December 31st 2019 Anil Ambani telecom naval infrastructure and power businesses have defaulted on loans over 6 billion dollars ( six billion dollars) or 43,800 crores Indian rupee (Forty-Three Thousand Eight-Hundred crore) his pile of deaths has also affected his other projects.
We had the Delhi Metro or power projects in Madhya Pradesh while Mukesh Ambani's wealth saw ups and downs but remained steady at 43.1 billion dollars last year (2018-2019). Anil's fortunes tumbled to 1.7 billion dollars and are reported to be worth less than 1 billion now
These were Anil Ambani's deadly major sins  
Poor Strategy: Are calm lost out when 4g came. This way known drawback in CDMA.
Pride: Chasing prestige projects with long returns rather than the bottom line. 
Over-Ambition: Like the ceiling over-ambition looking outside of core competence areas like venturing into defense. 
Mismanagement: taking more loans than the ability to pay in worst-case scenarios like our comm navel etc. 
Mukesh, on the other hand, has not only kept a deep focus on his core business but entered two major sunrise sectors retail and telecom through a well-crafted strategy.
Anil is not the only one to lose his fortune.
Ranbaxy's Shivinder and Melivinder Singh lost their ancestral 2 billion-dollar empire. 

Shashikant and Ravikant Ruia had to let go of their bankrupt Essar Steel, to ArcelorMittal.

VG Siddhartha of CAFE COFFEE DAY ended his life citing debts and pressure from 

lenders.

Naresh Goyal had to step down as chairman of Jet Airways which eventually wound up operations under a debt of eight and an 8,500 crore Indian rupee.

TV Mogul Subash Chandra lost his stake in Zee TV due to mounting debt.
The once billionaire is currently battling a lawsuit by three Chinese banks which are trying to recover 680 million dollars (Six Hundred and Eighty million dollars) they lent to RCom in 2012; debt backed by Anil's personal guarantee. in a further spate of bad luck Reliance Capital the only business which was still doing well also got hit due to the global recession after the Coronavirus Epidemic.
A London court has now asked him to deposit a $100 million in six weeks but Anil pleaded 
'I do not hold any meaningful assets which can be sold to pay them.' 

— Anil Ambani —
Now that the six-week deadline is over and Anil is still out of jail it appears that he had enough personal funds to make the payment.
After the Jio-Facebook deal, big brother Mukesh soars even higher but with limited resources left, the question is, what next for Anil Ambani Baseball?
This is the story of Anil Ambani:-
HOW HIS LIFE WAS ONCE FULL OF GLORY
BUT HIS DEBT OVERLOADED
AND CAPITAL ERODED
WHAT CHAPTERS ARE LEFT IN THIS RIVETING STORY
More Articles:
Fact Check
We strive for accuracy and fairness. If you see something that doesn't look right, contact us!